Atrium City Hall. Gives space to colorful ideas.
The Atrium  is the meeting place in the City Hall for citizens of The Hague and visitors/tourists to The Hague. An average of 50 cultural, educational and social exhibitions and events are organized every year, as well as commercial activities. The Atrium City Hall Foundation has been producing these various activities in the Atrium since the opening of the City Hall in 1995. The foundation does this on her own initiative, but external parties can also rent the space for any activity. Atrium City Hall thus provides a broad picture of what is happening in The Hague and far beyond.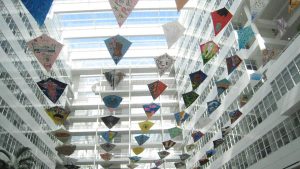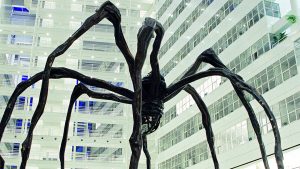 Atrium. Place of many transformations.
From the very first beginning it becomes clear that the Atrium is a place that effortlessly undergoes many impressive transformations and contributes greatly to the dynamics of the city. A concert on different floors, a floating fashion exhibition above the municipal offices or a grand banquet after closing time; the Atrium is open to diverse and challenging ideas.
Atrium City Hall. Mesmerizes the audience.
The public is the center during the activities in the Atrium. Young and old will experience music, dance and theater. Difficult subjects, challenging constructions and innovative concepts are not avoided when organizing activities in the Atrium. The space is visited by more than 8.000 people every week. Whether they come for the municipal offices or especially for an activity, the enrichment of the Hague City Hall is actively experienced by many visitors.  Big and small organizations from the city and far beyond, together with the Atrium City Hall foundation, we strengthen the dynamics in the heart of The Hague.
Brochure Atrium City Hall
The Atrium of the City Hall in The Hague is a location of many transformations, where there is a lot of room for art and is always on the move.
Atrium City Hall is open to your ideas and we would like to invite you to organize an activity with us, Atrium City Hall.
Please take a look at our new brochure for all of the impressive activities in the Atrium of the City Hall of The Hague.
Documentary 25 Years Foundation Atrium
On September 8, 1995, the City Hall was opened by Mayor Havermans and Queen Beatrix. This day the Atrium was opened for the public, to view the most beautiful activities that have been organized from the start by Atrium City Hall, the foundation behind the many activities in the hall of the Atrium City Hall. In 2020 the Atrium was closed until further notice for activities due to the Corona Measures, yet 2020 remained the perfect time to look back with all kinds of stakeholders, from past and present to the last 25 years. This unique online Dutch & English subtitled documentary is produced by Cue Creative.